History
The Doc. Ing. Miloše Michlovského, DrSc. winery was established in 1993 and produced mainly wines designated for subsequent sect production. Attention was gradually focused on the production of quality and attributed (predicated) wines. The Vine Breeding Institute in Perná was incorporated in 1994. The company began to bottle its best wines in 1995 and keep them till optimum maturity. At the time when the market was being saturated with average wines, the company addressed more demanding customers with wines of high quality.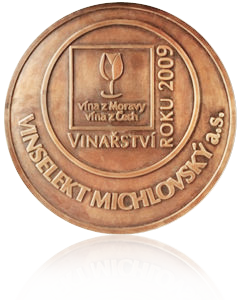 The company started its participation in both national and international competitions in 1997 and immediately achieved top prizes, a position which is held till now.
The VINSELEKT MICHLOVSKÝ company achieved its BIO Certificate (a product of ecological agriculture) also in 1997. Wines produced by Dr. Michlovsky were served in Prague Castle and at the President's Chateau in Lány. The same year, Michlovský founded the international wine competition for the Sauvignon variety, called "Sauvignon Forum", which in 2012 was taken over by the Wine Makers Association; currently, the competition is under the patronage of OIV (The International Organisation of Vine and Wine, Paris) and, since being opened for other varieties, the name was changed to Oenoforum.
"Our ancestors already recognized the major influence of position on vine growing. For centuries, the terroir has decided, together with the tireless work of the winemaker, on the quality of the wine produced." says this Moravian winemaker.
The continuous high quality and taste variation of Doc. Ing. Miloš Michlovský's, DrSc. signature wines, opened the way to specialized stores, top gastronomy and to the tables of selected customers.
In 2003, the company became a joint stock company, VINSELEKT MICHLOVSKÝ a.s. - and now employs about 75 people.