Vineyards
VINSELEKT MICHLOVSKÝ a.s. winery, as has already been mentioned, owns and takes care of about 125 ha vineyards in South Moravia. Vineyards are located in the land registers of Perná, Klentnice, Dolní Věstonice, Milovice u Mikulova, Lednice and Nový Přerov villages of Mikulov sub-region. Vineyards are planted around Rakvice, Přítluky and Zaječí villages of the Velké Pavlovice sub-region. 9 ha of vineyards are certified for eco-agricultural system and a further 5.5 ha of vineyards is currently in a transition period (the transition between an integrated production system and organic winemaking).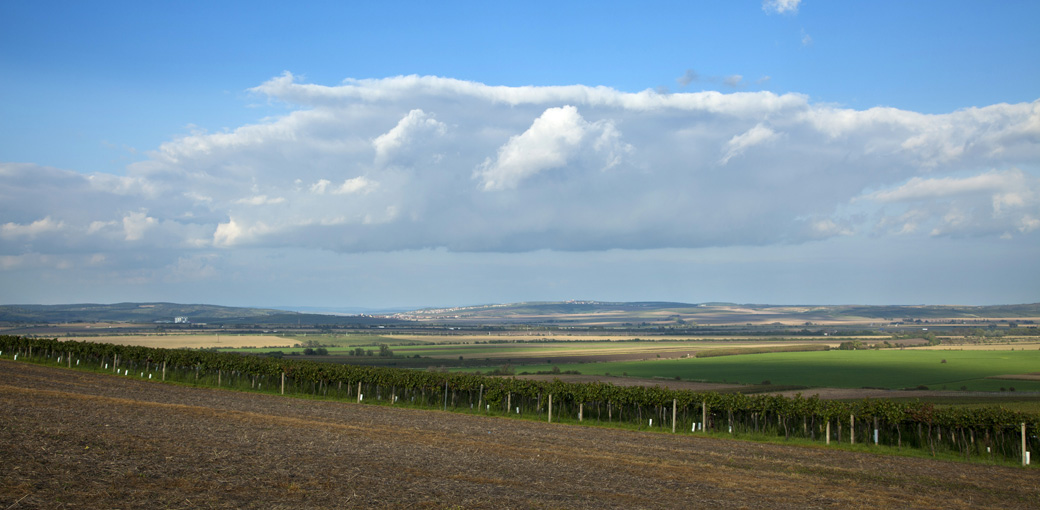 The rest of the vineyards are under an Integrated Production System. The main idea here is to reach the optimal yield with best possible quality in a nature friendly way.
Since we are proponents of the idea that quality is born in the vineyards, care of the vineyards is among our priorities. The basis for quality wines is perfectly healthy and well-matured grapes. Therefore, we are mainly concerned with quality and timely performed agro-technical operations in our vineyards.
"Vineyards are deep in the heart of every good winemaker, so that care of them is our priority."
We try to produce such wines that reflect the terroir of a given vineyard. The different locations of our vineyards offer us a wide range of soils, subsoils, weather and water conditions. Together with the different varieties and vine densities, we have plenty of combinations of the characteristics of individual vineyards. By combining individual natural factors we get unique specific conditions for a given location. The specificity of each vineyard gives us the variability that we maintain and support in our wines. The terroir is therefore part of geography and history and is a homage to the hard work of the viticulturist and common sense. For generations, both the vines and terroir have provoked strong emotions associated with their identity, and nowadays they have become a cultural inheritance.
Trkmansko (about 48.87823N, 16.86557E)
Located in the middle of Dyje-Moravian Hills at an elevation if 220 m above sea level. The substantial valley floodplain is filled with sandy-clay to sandy-gravel fluvial sediments and lowland clay with overlaps of loess and loess-clay. The river Trkmanka flows nearby. The white varieties Frühroter Veltliner, Müller-Thurgau, Aurelius, Pálava, Riesling, Green Veltliner and Hibernal and the blue varieties Cabernet Moravia, Franken, Pinot Noir and Saint Laurent are grown her.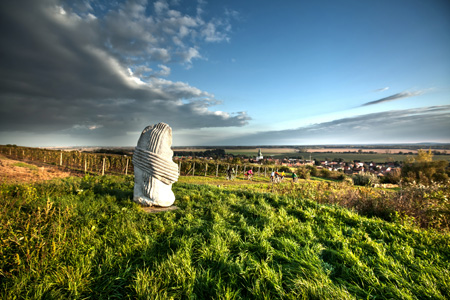 Přítlucká hora (about 48.8638N, 16.7726E)
Přítlucká hora (292 m above sea level .) notably rises above the South Moravian plain between Zaječí, Přítluky and Rakvice villages. It is the highest of the Dyje–Moravian Hills in the Dyje and Morava rivers lowland. The deeper sub-soil is flysch – a collection of mostly sand-stone and argil sediments. Overlaps of loess and loess-clay are extensive here. We are proud of our terraces, where we grow white varieties only, foremost are the less-known varieties Aurelius, Lena, Rinot, Savilon, Erilon, Malverina, Vesna and Gewurtz Traminer
Nad Sv. Leonardem
This vineyard gained its name from the St. Léonard statue (1796) in the field north-east of Kletnice. It is a very warm and dry location. They are argil-clay soils with a limestone sub-soil here. We take care of three terraces in the ego-regime here with the foremost interspecific (PIWI) varieties Nativa, Laurot, Regent, Hibernal, Rinot, Erilon, Savilon a Malverina.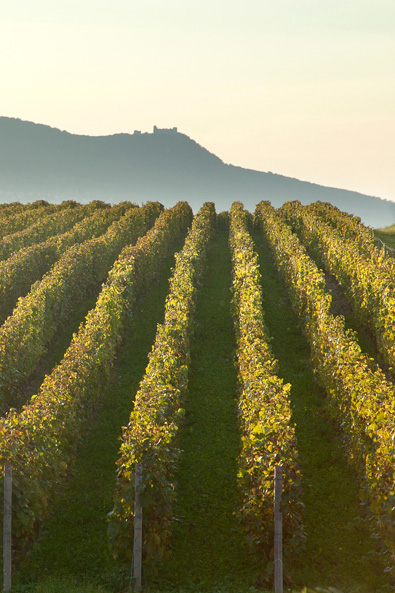 Goldhamer a Purmice
Among out best and most interesting locations, and we are not afraid to say our jewels, are the Goldhamer and Purmice vineyards, located on a south-facing slope of the Pálava Hills. Heavy argil stone rich soils with a high content of calcium are typical here. Pálava and Welsch Riesling varieties are planted here. The Pálava variety suits this location, not only for its name which suggests that is was bred here, because it requires a very good and high-quality location and those are undoubtedly the south Pálava Hills. Welsch Riesling is our royal variety, so that we devote our best location to it. Our reward is the unmistakable and typical wines of the Welsch Riesling variety from the Pálava region, which are excellent thanks to the local terroir. They excel even enough to become the heart and symbol of the civic association V.O.C. Pálava.
We are trying to support the terroir to such an extent that new vineyards are planted according to the motto: "help us keep the heritage of our fathers, my lord", which is unfortunate for today's previously unknown vine density 120x80 cm with more than 10,000 individuals per hectare. It is an idea that is neither new nor revolutionary, and it is based on the history of vine growing in Moravia. It's a real return to the roots.
The main idea behind the dense vine planting is to naturally form the vine root system and force the roots to grow deeper to the very sub-soil where the real terroir lays. The vines have no room to form a wide roots system and due to the surrounding vine competition are forced to direct the roots system deeper into the soil. The advantage is both that the roots reach the right sub-soil that support terroir qualities and deep enough that a specific microbiological situation is formed, the so- called mycorrhiza that is a symbiotic association between a fungus and the roots of a vascular host plant – which crucially influences both the quality and original expression of the wine. Of course, vines with deeper roots are more resistant to drought and possible black frost.